Publiem is an image, communication and design laboratory. Where a team of experts develops and implements advanced solution to better communicate improving production flow's effectiveness and making more attractive products
Frabo Adesivi campign

A couple of dalmatian for Frabo's campign on trade magazines.
The male is looking at his partner fallen strains. Is an ironic image that invatie the observer to take in consideration the stickers quality. Frabo Adesivi is the first italian comapny that have introduced water based adhesive in the market, used around the globe for a wide variety of products. Today Frabo has become a wordwide point of reference for the most prestigious brand of fashion and design.
Brochure SOL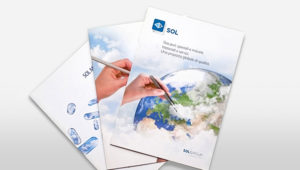 "Pure and special gases SOL's Brochure 2019"
SOL's pure and special gases for a quality without compromise. SOL Group is between the Europeean leaders since more than 90 years and take an active place within the world of scientific research. It shares scientis objective in developing new technology and supporting them in creating more efficient products, being respectful of humans and nature-s health during the process. The communication aimed to research center, universities and the more demanding company of high-tech industry distinguishes itself for concretness and clarity.
Around the 1700 a.C. a cretan artist engraved a clay tablet, telling a story that, even today, makes argue scholars all over the world.
When, in 1908, has been discoverd by a team of italian archeologist, it became the "Phaistos disc", the symbol that represent us since the beginning of our professional journery.
The Phaistos disc is an object full of charm, a fondamental opera of the first flourishing Europeean civilization.
The tablet has been engraved using awls like the mobile characters used in typography, making of the Disc the first example of human communicaton design.